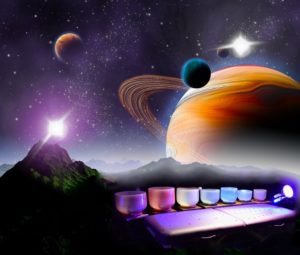 Explore the benefits of purchasing your Forsyth Crystal Light Table © and become certified as a Crystal Bed Therapist! I get a lot of inquiries asking me to compare our custom crystal beds to others like the John of God and the Quantum Resonance crystal bed. My research has shown there are major differences that make FCLT© such a unique product. My clients describe their experiences as personal comparison. Here are a few features of the FCLT© that make it stand out among the rest after years of client study and medical evidence of results:
Craftsmanship
Each table is hand made by a former award-winning builder with over 40 hours of dedicated care taken to create and infuse the energy of your intentions. This feature makes every crystal bed uniquely designed with personalized vibrations aligned with your intended use.
Easy to Operate
The FCLT© will amaze you with the ease of operation. You will receive an easy step-by-step operations page, an in-depth training program, Crystal Bed Therapy certification, and personalized set-up instructions. The lighting controller comes with several pre-programmed options In less than fifteen minutes, you will be operating the device.
Remote
Each table cam be used for remote delivery of energy and a proven track record for creating positive shifts to those hundreds or even thousands of miles away. This is one of the safest most effective energy devices made and perfect for the conditions created by a pandemic.
Multiple Uses
The FCLT© can be used for a variety of issues, and is perfect for each practitioner to use on themselves after a hard days work. Personal energy balancing is one of the nest uses for this tool. Just share the crystal, turn on the program, and put on the headphones wile you listen to any meditation delivered with the device.  From simple chakra tuning to detailed channel clearing, the number of applications will amaze you.
Combination of Modalities
Never before has been there been a human energy device that utilized the combination of modalities that include magnetic therapy, crystal therapy, chromotherapy, and sound therapy. It is this combination that creates the experience of a lifetime.
Lapidary Excellence
The fine-cut crystal are hand cut with precision by the best lapidary artists in the world to deliver the greatest amount of low-dose natural radiation, scientifically proven to create beneficial change at the cellular level.
Free Training
We have not found any other crystal bed that comes with a free training guide worth thousands. Imagine getting a crystal bed with no instructions or reference material that helps understanding the mystery of human energy systems. The free guide and Crystal Bed Therapy Certification took years to develop and offers easy to follow step-by-step instructions, with client studies, scientific explanations, and the history of each modality.
Instant Practice
The Forsyth Crystal Light Table © and your Custom Crystal Bed immediately creates a practice. People from all over the world are drawn to experience such a device, so it will automatically start paying for itself. Whether you are just starting out, or simply want to add to your existing practice, this product will deliver.
Service After the Sale
Each Custom Crystal Bed comes with a warranty and service after the sale. Our team is responsive to the needs of the operators and available to answer all questions. As you learn more, you will be able to choose a program that fits the needs of the clients or yourself.
Proven Track Record
These tables have been tested with thousands of clients with a proven track record of success. You get a new device that has been tested with informal trials using client feedback that allowed for fine-tuning such a device.
Custom Models
Check out the crystal bed page to see the variety of choices and the options offered with each FCLT©.
For more information, check out the benefits as a user, contact us at (512) 999-8478, or visit to Crystal Light and Sound.