Custom Crystal Beds
Since the very inception of the Forsyth Crystal Light Table in 2007, Russell has been building custom crystal beds for others. It soon became clear that each crystal bed was unique in its own way as the recent incarnation represents the 4th generation of crystal bed design. Despite the fact that the tables incorporate some of the same elements of modern and ancient modalities, each crystal bed is built according the specifications of the clients. Those unique differences in every table emerge from the intentions that create a specific energetic alignment with every client.
Click Here to purchase a Custom Crystal Bed
Click Here for training in Crystal Bed Therapy.
Each crystal light table leaves the builder and travels to its new home as an individualized healing tool. But once in service, each custom crystal bed becomes another point of light on a global energy grid. Some practitioners communicate they can feel the vibration with the addition of a new table in the world as they operated their own unique device. The healing energy that brings balance to one person, ripples out to touch everyone else. Healing the world starts with the individual, then spreads to their family and community. Many practitioners hold group meditations and healing by gathering in a room where the crystal bed is located and operating the device. You can start drawing people to your spa or practice on the first day of operation for your new crystal bed.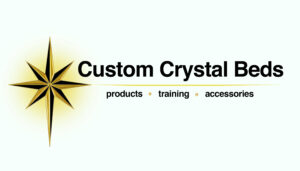 Every custom-built table contains the following elements:
Crystal Therapy

Magnetic Therapy

Sound Vibration Therapy

Chromotherapy

Training (no other crystal bed in the world includes free certification training and resources)

Portal to a non-physical dimension (this is the trade secret that makes the crystal bed unique)
From earlier experiences, we realized the total infusion of all elements to align with the customers intent was a vital aspect of the overall design and successful application. The massage table itself is the most expensive element, because of extensive effort around the infusion process and installation of the energetic portal. Recent operators have shared experiences and immediate results with the new portal in their healing space. Several hours are spent on building the massage table. It may look like any other table, but it is much more and a crucial energetic element to the design and operation of the crystal bed. In the beginning, a client persuaded us to allow the use of their existing table as a cost-savings measure. The result was an ineffective crystal light table. From that point on, we refused to build under that type of agreement.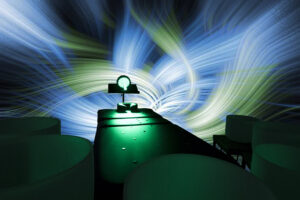 We are now for the first time offering all the elements to piece together an energy device specific to the individual need of each of our customers. This basically means you can choose all the element to your custom crystal light table. A massage therapist can now add chromotherapy to function with their table. An energy healer can add magnetic therapy or crystal therapy. to their protocol. We love to see anyone use our products with the understanding the only way to use Forsyth Crystal Light Tables or Custom Crystal Bed in the marketing of services, is to buy all the elements in one of our packages that includes the massage table infusion of all parts simultaneously.
Below is a list of all the elements of a custom crystal bed:
Crystal Bed Massage Table (infused with your intentions, choice of colors, and comes with face pillow and bolster)
Fixed Chromotherapy Device (includes lighting controller, cables, multi strip outlet, and universal stand to fit most massage tables) 
Crystal Wand* or the new Stargate crystal with custom fit bag for protection (we have a custom designed crystal for all crystal beds)
Copper Holder (custom fit to any crystal wand and designed to amplify the flow of energy)               
Gold Therapy Magnets (glued directly onto table)

 

  
Magnetic Pad (in place of glue on magnets) call for availability and price 
Crystal Singing Bowls (we use 432HZ tuning with 7 piece chakra set/can order custom set)                                   
Alchemy Crystal Bowls (varies in price and tuning)         
Crystal Bed Therapy Recordings 6 total (allows the light able to be operated without owning or playing a crystal bowl set.) Perfect for spas, home use, hands free operation, or to facilitate other modalities.                                                                                                   
Free access to online training with an advanced membership.

 

                           

     

**Does not include applicable sales tax and shipping costs.
*Note: Most people budget for an extra wand in case the original is misplaced, broken, unable to clear the energy from the last client, or the use of two crystals is preferred. It's always good to have a backup and a wand that can be used to directly target an imbalance.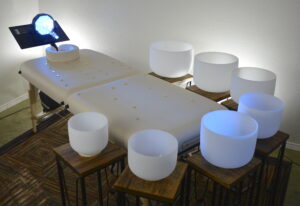 Testimonials
"Since my last session, everyone around me physically fell apart. My husband who is so calm had a panic attack and completely fell apart. My father needed emergency quadruple bypass surgery and I had to go stay with them to help my Mom. I was surrounded by people falling apart all around me. But, not once did I feel like this is too hard or wish I wasn't alive. I kept telling myself, "You are so brave!" "I'm sprout of you!" I didn't have any of those terrible PTSD feelings like I'm dyeing. I had so much healing, which was a miracle to me. It was such a huge break through in my life. In the past I would be thinking this is too hard and feeling like I wanted to die. The healing I received on the crystal bed was a huge change in my life." DM
"I know it's early but can see that your light table is a great gift. I came home and napped very hard. I can feel the effects of the session and can tell my body is integrating 'something'. The closest thing I can say to describe is that it feels like I was hit by an atomic rainbow!" MK
"I have had PTSD since childhood. I have had many sessions with Russell, and I am always uplifted by my time with him. However, this year I needed to get off my seizure medication after almost 20 years. I had no clue that the drug was masking the PTSD all of this time. Russell and the angels completely removed the PTSD from me so that I could be start withdrawing from the drug without psychological trauma. I am completely amazed and grateful to Russell for his wisdom and compassionate care." CI
"I saved up for a crystal bed and once I collected the resources, I went to make the purchase. The price had nearly doubled! I felt defeated until I came across the Forsyth Crystal Light Table on Crystal Light and Sound. It was the exact amount I had saved. I made the purchase, then realized it came with a free training program. The IEL Institute training program was more than I expected, because I had searched extensively for such a program. Between the feeling of connection while the table was being built and taking the training program, my intuitive skills increased. My table arrived and it has already exceeded my expectations. I'm so glad they upped the price on the other crystal bed!" CF
November 2020
I had opened and viewed the beautiful Vogels, but didn't yet open up the bed as I have been going through a bit of a bout with depression, which is totally unlike me as I'm Type A, always exerting, pushing thru, foraging. Recently with all parts of my life being tested, It's been a struggle to get focused and to find any energy. I kept telling myself 'I need to get the table set up, I need to, I need its healing energy right now', but just haven't been able to.
Today I was told that my grandma of 93 years old was having her life respiratory support taken out at 1pm Hawaii time.  I knew it was time to set up the table. I hadn't seen her in 8 years and she had literally 'died' and then the doctors later found a pulse – she came back!  It's our strong stubborn Japanese roots, lol.  She had been on respiratory support since then, November 1st.
My daughter and I watched the unboxing video and she and I opened the bed and gasped. The artwork, crystals and infused mantra's were absolutely amazing. I have a huge affinity for pyramids also! I am so grateful and beyond words for all the special touches. It's so funny because a few days ago out of the blue I told my husband that I was going to name the bed Infinity. Then I read the words on the bottom of the table 'Infinite journey of the soul'. Wow. The design is so resonate with my logo and I love the vibrant colors! Everything is just perfect and beyond what I thought could imagine. Everything was incredibly easy to put together! Even my 6 year old said, 'Wow that was easy'! What's the saying: It's so easy my six year old could do it!  Yes, it was literally that easy to put together and operate, lol.
My daughter has never met my grandma, but she drew a picture of her to lay on the crystal light bed for the session. When it was time, we lit up each color for her and then shined white light to finish the session. I added some reiki and comforting words for her during the session. The Vogel crystal casted amazing rainbows against the white light and we saw some pink orbs reflecting against the wall during the session. She is currently still with us, but I believe that she will be quietly at peace and free very soon.
So, we are all set up now!  I'm still going through the learning process of the modules and I've enjoyed all of it thus far. I did complete all the required Angel Card readings, but need to get those grouped together to send to you. I've always received readings and never thought to give any, but now I'm completely open to offering these as they felt very natural and was a great way to trust and share my intuition.
I wanted to thank you and Beckie again for allowing me to be a part of the Forsyth Light family and for the amazing crystal bed. NK 
Click Here to purchase a Custom Crystal Bed
Click Here for training in Crystal Bed Therapy.