Soul retrieval is an ancient form of healing following the tribal belief that all illness was a result of an issue with the soul. By healing the etheric body, wellness could be restored at all levels. Even by today's standard, it is believed that there is a metaphysical cause that creates any imbalance leading to disharmony, disease, or illness. We also know that environmental and genetic influences can play a role with any form of disharmony, but it stands to reason that resolving any issue with the soul can bring balance through a focus on energy.
With understanding basic concepts around disruptions at the soul level, the detective in me was thirsty for more. I wanted to know all the different types of soul fragmentation, in order to target the specific needs of my client. So I immersed myself into the information as I studied the different categories of fragmentation, and then applied those to the experiences of working with my clients.
One of my clients this last week was a fortyish male that had seen such a remarkable difference in the behavior of his 14-year-old son after a session with me, that he came in to experience my work. His intention was around a haunting feeling that he had experienced for his entire life. He felt like a part of him was missing and his mild manner had turned to anger repeatedly during the course of his life, with regard to his sense of separation. As we worked together to assess his energy, it became clear that he had a soul fragmentation and 30% of his consciousness energy was remote. His description of his experiences was a perfect match for the reality of his energetic imbalance. One of my impression was that this was his first lifetime on this Earth, which might seem unusual to some and not so far-fetched to others.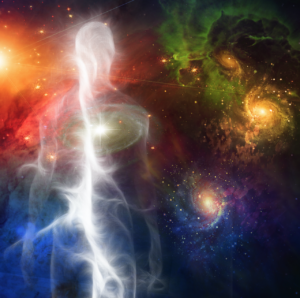 I explained the process of welcoming his energy back into his mind/body space, along with the potential for a behavior modification in the next few weeks as he integrated and transformed himself. He was all in and when I asked how he felt about the assessment and information, he replied 'hopeful'. We moved over to the light table and began the process of the soul retrieval. As the fragments of consciousness began to return, a movie began to play in my head.
What I was seeing in my mind's eye began with a portal in a starry sky that opened to a spaceship falling out of the portal. I saw energy forms looking at a screen on the spaceship, and on that screen was a male and a female. The impression was he was choosing his parents. (Keep in mind that intuitive information from spirit comes across in many forms, and usually in a metaphoric sense so that we can easily interpret.) As he exited the spaceship, his energy body fell to this Earth.
As the energy raced toward the planet, there was a problem….a miscalculation. Part of the energy of his spirit split apart, and the image was similar to fireworks or metal breaking apart in the atmosphere. It was an image similar to the one in the movie After Earth, when the spaceship broke apart and one section landed several miles away from the other section, essentially splitting the ship into two main debris fields. In the imagery with my client on the table, one main section landed inside a female human and the process of gestation began, but there were parts missing.
The entire movie played in my mind's eye over a ten-minute period, with my client on the energy device accepting his remote fragments in the retrieval of the soul. One of the more interesting features, was that there was a song playing loudly the entire time, like a soundtrack to a movie. That song was 'Space Oddity,' which was released as a single by David Bowie in July of 1969 a few months after my client was born! The lyrics are as follows.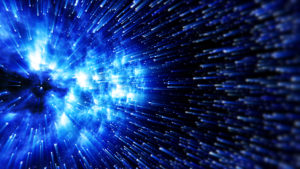 Ground Control to Major Tom
Ground Control to Major Tom
Take your protein pills and put your helmet on
Ground Control to Major Tom (ten, nine, eight, seven, six)
Commencing countdown, engines on (five, four, three)
Check ignition and may God's love be with you (two, one, liftoff)
This is Ground Control to Major Tom
You've really made the grade
And the papers want to know whose shirts you wear
Now it's time to leave the capsule if you dare
"This is Major Tom to Ground Control
I'm stepping through the door
And I'm floating in a most peculiar way
And the stars look very different today
For here
Am I sitting in a tin can
Far above the world
Planet Earth is blue
And there's nothing I can do
Though I'm past one hundred thousand miles
I'm feeling very still
And I think my spaceship knows which way to go
Tell my wife I love her very much she knows
Ground Control to Major Tom
Your circuit's dead, there's something wrong
Can you hear me, Major Tom?
Can you hear me, Major Tom?
Can you hear me, Major Tom?
Can you "Here am I floating 'round my tin can
Far above the moon
Planet Earth is blue
And there's nothing I can do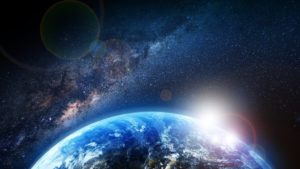 The session had such a high vibrational feeling that was inescapable. The client said he felt calm on the inside and very together following the session. The next day, I heard from him when he shared that he was in his vehicle at a stop light and the song Space Oddity began to play on the radio, which to him was an affirmation from the Universe. He continued to feel calm and together as he integrated the energy.
The message sparked something inside me. I researched the song and found that it was recorded in February of 1969. The clients birthday was in April of 1969, which means the David Bowie was inspired to write that song while my client was in the womb of his mother. You can't make this stuff up!
by Russell Forsyth
Click here to see the full description of the 5.1 Soul Retrieval online course.
Gain immediate access to our entire training curriculum!
Curated content for members only, forums, and
joining a community of like-minded individuals.